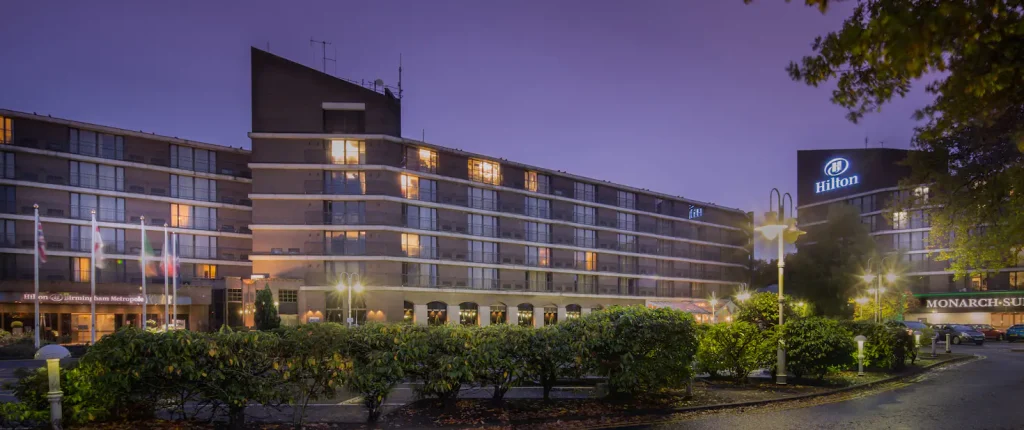 We're very pleased to be able to tell you that we have signed a contract and confirmed our event dates to hold Conversation at the Hilton Birmingham Metropole at the NEC, from Friday 7 to Monday 10 April 2023.
Innominate, the 2017 Eastercon, was held there, so you may be familiar with the site. In the meantime, the hotel's public rooms and bedrooms have been refurbished, and ventilation systems upgraded to reduce Covid risk. It's a large hotel and we expect to have plenty of space to safely welcome you all.
We will be opening hotel bookings shortly, and will keep you updated. We do not expect to run out of hotel rooms. Our hotel rates are not fixed in the way that some Eastercons have been; instead, our arrangement with the Metropole is that our convention booking rate will represent a discount on the best generally available rate. This means that rates may vary, and in particular may rise, as we get closer to the convention.
The hotel is large, and has many rooms adapted to be accessible. Please let us know (at access@conversation2023.org.uk ) if you have any concerns or unmet needs.
You should be aware that, as is usual for Eastercons, our contract with the Metropole is contingent on our taking a number of rooms within our block. Please do not book separately with the hotel. We will have plenty of rooms in our block and we expect our rate, which will include breakfast, to be better than you can get elsewhere.
Now that we've announced the site we will shortly be increasing our membership rates. We'd be very grateful if you could remind all your friends who are planning to come that they should join the convention at this early rate.
Expect to see more information from us soon about booking hotel rooms, booking for the dealers' room and fan tables, and the timing and details of our initial rise in membership rates.
This has been a difficult year for site negotiations. We are very grateful to Vanessa May and the Persistence committee for providing the continuity with this site that has given us this outcome.
Caroline Mullan, Conversation 2023 Chair