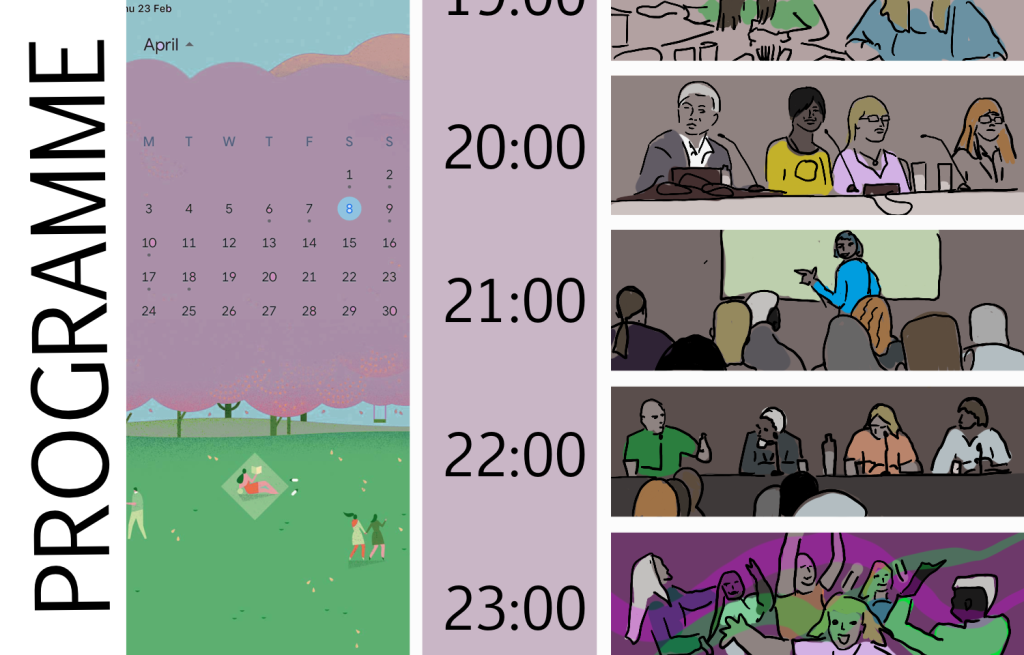 Programme Principles
Conversation is a hybrid convention: the majority of programme items taking place over the weekend are streamed to the internet and available for watching online live or from the next day on catchup.
Many programme items are fully hybrid, with many participants joining us in person and others – including two of our Guests of Honour – joining us online.
A few items (those involving eating, drinking, dancing or singing, or working with materials) are not streamed, and these are clearly indicated in the programme.
Online social events are organised via Discord.
Conversation is an accessible convention, with screens and microphones ensuring items are visible and audible to all audiences. Programme rooms are fitted with hearing loops and provision has been made for accessible seating. See our access policy for full details.
Members attending onsite are asked to wear masks while attending the programme – see our Covid Policy for details.
Programme Information
The programme schedule is available online via ConClár
Sign in via our registration site to watch the programme online in real time or catch up with recordings. Catch up with comments and conversations on Discord at any time during and after the con – we've got members around the world in different time zones so Discord may be at least partly active all the time.
Printed leaflets are available onsite.
Places and Times
The onsite programme will run in six rooms:
Queens
Pavilion
Gladstone/Churchill
Wellington/Salisbury
Balmoral
Sandringham
with some smaller workshops, meetups and discussion items in other rooms.
All items are in 90-minute slots starting from 09:00 through to 22:30 (all times are British Summer Time).
Friday – 1200 Noon to at least 22:00
Saturday, Sunday – 09:00 at least 22:00
Monday – 09:00 – 15:00 (followed by the Closing Ceremony)
Almost all programme items are available to members both onsite and online, exceptions are marked in the programme.
Discord is open to members from around the world and there may be events organised to suit members in non-UK time zones – please see Discord.
Programme Highlights
Thursday
16:00 – So You're Here Early – meetup in the Lounge Bar
Friday
12:00 Noon – programme starts up
15:00 – Opening Ceremony
16:30 – Desert Island Books with Niall Harrison
18:00 – The Dark Room
Saturday
12:00 – Kari Sperring interview
15:00 – SFF presents the Hay Lecture: The Hitchhiker's Guide to Healthcare, by Dr Colin Carlson of Georgetown University
Sunday
10:30 – Adrian Tchaikovsky interview
13:30 – Eastercon Business Meeting including 2024 (Levitation) presentation and Bidding Session for the 2025 Eastercon
18:00 – BSFA Lecture: Classical References in Dracula, by Dr Penny Goodman
21:00 – Donna Scott's Comedy Double Act, "Prison Biscuit"
Monday
12:00 – Zen Cho interview
15:00 – Closing Ceremony
Participation
Table talks with Guests of Honour and some workshops for limited numbers require signup beforehand. You can sign up for your chosen item here, and you can fill in the form more than once.
In addition to these, you can sign up for the Metal Clay workshop with pre-payment, and there are 15 places available via this route.
Where signups exceed capacity, names will be entered into a lottery. Successful signups will be advised by email no later than 2 hours before the item.