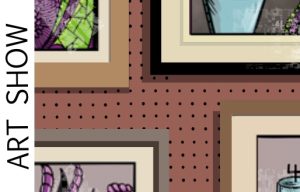 The convention art show this year will be in two parts: a conventional physical art show and an online virtual gallery. The convention is over now but you can still visit our virtual art show, and buy art (with free UK shipping). The physical art show will feature a very diverse range of work by more than 25 artists, ranging from the very well known to new talents. A list of the artists can be found here.
This year work will be available to buy throughout the convention (for collection at the end of the con – or at some other time by arrangement). There will be an opportunity to meet the artists & chat to them about their work at a Meet the Artists event on Friday evening.
Please note that some art may not be suitable for younger members.
The online art show has work from both attending and online members of the convention, plus a featured Illustration Gallery, an art shop, and behind the scenes 'peeks' of artists at work and of the onsite art show. The online art show will be accessible via the convention Discord. There will also be tablets available in the onsite art show for viewing the online show and QR codes which you can scan into your phone to take you there. The online art show will remain available until the end of April.